Share this: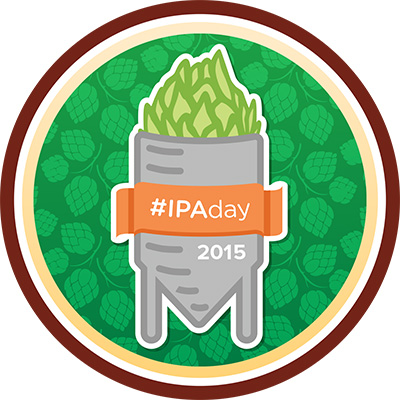 Today marks the fifth annual National IPA Day, and every year the craft beer landscape changes. I feel like the segment as a whole has moved further along what I've called the Craft Beer Trajectory, where people now appreciate the subtle nuances of a Gose or Berliner Weisse, or even just a well-crafted lager. But the IPA is still the belle of the ball, as often the point of entry for newcomers as the upperclassman O'Bannion pushing nerds into lockers. That is, it is perhaps the most widely appreciated and variegated style of all, from Session to Imperial, White to Black, showcasing myriad hop varietals while hewing to English tradition or embracing new American audacity. Reasons to be celebrated, all. Beer-tracking app Untappd of course has released a badge for the occasion, so let's take a look at what might fill your hoisted glasses in Texas today.
Lone Pint Yellow Rose
Hard to believe that just a few years ago, Yellow Rose was the new kid on the block. Since then, Lone Pint's flagship IPA has wrested the crown from its competitors, sitting among the top beers in Texas – of any style. They may have just been on the groundfloor of the Mosaic phenomenon, but regardless, they've got things dialed in, and Yellow Rose is now the seasoned veteran telling the new guys to loosen up. You'd be hard pressed to find a better IPA. But we'll try, won't we? For science.
Oasis Texas MetaModern
Speaking of new guys, the somewhat mysterious brewery on Lake Travis pumping out exclusively sessionable beers has a winner on their hands with MetaModern. Clocking in at a modest 4.5% ABV and 45 IBU, this is one you can enjoy several of on IPA Day. Citra and Mosaic hops dominate the citrusy nose, standing on top of Bravo and Centennial's bitter shoulders. The brew team at Oasis hails from such august Austin operations as (512), Live Oak, and Uncle Billy's, and their talents have certainly meshed harmoniously on the outskirts of town.
Brash Brewing Pussy Wagon
Definitely the newest of new guys on the scene, Brash has entered the Houston market not with a whimper, but a bang. Having brewed in exile in Massachusetts until Texas beer laws changed in their favor, Brash announced they were here to party with their super dank pale ale, EZ-7. But we're talking IPA's today, and just last week they rolled out the TV-MA version, Pussy Wagon. Some family-friendly locations aren't exactly sure what to make of the name, but regardless of venue or patron, it's nearly unanimous that Brash has one of the best IPA's on tap anywhere in Texas. Curiously not quite as strong a nose as EZ-7, but the hop bitterness starts by bending your arm back until you think it's gonna break, but then relenting with a stonefruit sweetness of peach and mango.
Community Mosaic IPA
Giving Dallas a nod on this list, Community's Mosaic IPA is further testament to the prowess of the Mosaic hop. Some may think Mosaic is getting played out, or at least, once everybody's brewed a Mosaic IPA, what's the next hop du jour? That remains to be seen, but in the meantime, Community's unique blend of English Maris Otter and American Pale malts gives this IPA a rich amber hue and a soupçon of caramelly sweetness that you don't often find in this style. At 7.5% ABV and 85 IBU, this is decidedly not a session but still one you might enjoy a few of.
Hops & Grain Greenhouse IPA
At first somewhat difficult to get one's hands on, this aromatic small-batch IPA series from Austin's Hops & Grain is now released regularly, if not monthly. Starting on a 3 bbl pilot system, this experimental brew showcases different hop aromas by using a different varietal for dry-hopping on each release. Individually batch-numbered, each one will be distinctive, but sure to please. And it's not just a one-note Simcoe or Citra explosion: they use such an array of hops in each version that the aromas and flavors are delicate and balanced. If you're looking for another Mosaic-forward IPA, you might just go for their Pale Mosaic IPA and skip all the Greenhouse investigations. But what's the fun in that?
Saint Arnold Art Car IPA (Hon.)
An honorable mention has to go out here to the godfather of craft brewing in Texas, Houston's Saint Arnold. Already progenitors of the stolid English-style Elissa IPA and the more American-style DIPA Endeavour, today, just for the IPA Day occasion, they're releasing the newest member of their lineup, Art Car IPA. It gets honorable mention because, dammit, I'm still at work and haven't tried it yet. But packed with an array of Pacific NW hops, it's aroma beckons, while at the same time highlighting Saint Arnold's stable of art cars designed by local artists and driven by their sales reps. It'll also be a good way to fill out my cooler next Spring for the famous Houston Art Car Parade.
Of course, just as when I see an IPA list full of Pliny, Sunshine, Zombie Dust, and Heady Topper – none of which are available in Texas – I'm sure my non-Texan readers might throw their hands up, looking for something distributed outside the Lone Star State. Saint Arnold's Endeavour, when fresh, is a stalwart Houston IPA, distributed to Louisiana and Florida as well, and Karbach's Hop Delusion is something you should look for if you're on Texas soil. Stone's Enjoy By is a well known and incredible DIPA distributed nationally, as is Firestone's Double Jack or Ballast Point's Sculpin. Whatever you choose, enjoy it responsibly, and happy IPA Day!
Share this: